Philippa's Summer Blog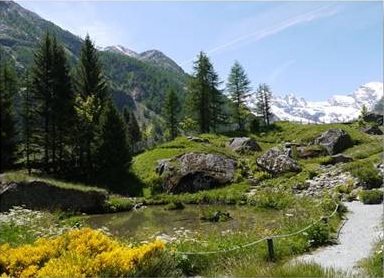 I simply can't remember a summer as wet as this. Looking on the bright side perhaps it means students with hay fever had an easier exam time? It also makes weeding easier as I discovered last weekend after 6 weekends "on the road " – a mix of work and festivities. But that's it for the up side - so I am sharing a photo from a very sunny weekend in the Italian Alps to remind you what the sun looks like. Last time I was there in June it was snowing!
Summer CPD – a case study
A metaphorically sunnier experience has been learning from our school and college visits in June/July. In the new world of austerity and self sufficiency, we have been trying to find ways of providing judicious amounts and forms of external support to schools and colleges that reflect what the evidence shows makes a difference whilst building internal capacity. This means mixing efficient, established approaches with transferable and bespoke support. Sustainability is obviously key. Zooming in on one partnership is helping us explore what a 95% in-school 5% specialist, external CPD partnership looks like. So click here for a mini case study and tales of circa 300 colleagues tackling ways of embedding high quality coaching in the fabric of school life – with the help of diagnostic starting points, trained coaching champions, practical tools, bacon butties and jubilee cup cakes!
Of course the proof of the pudding (or other sweet things)is in the eating so what matters is how all this is followed up and what the different evidence strands embedded in the process tell us about connections between staff and student learning. It will be fascinating to see what a review in October brings...
July and August
On which autumnal note, I know this is a very busy time for all colleagues at the front line as you wrap up the year and plan for the next. For colleagues heading off to places that still have summer, enjoy! If you've got tickets for the Olympics, we'll pray to gods of the jet stream to move further north. I know many of you will be carrying on working but, hopefully, with a bit more mental space to think things through and breaks in-between. We'll be here throughout the so-called summer so don't hesitate to get in touch.
Philippa Cordingley - Chief Executive
---
Ideas from the field
Click here to see some of the ideas and feedback generated by a group of creative and talented school and college leaders from across the country hosted by Westminster Special schools during a 1 plus a follow up .5 day coaching programme. The participants used their very diverse group backgrounds spanning all phases of education to make a really positive and sustained professional learning community. Key to this was their willingness to share ideas and practice encouraged creative thinking as to how coaching could be used to support deep learning amongst staff connected with student learning.
We are planning to use the new training suite at Westminster Special Schools as a London venue for a range of our workshops in the coming year. Click here to find out more about CPD provision like this.
---
Reading Classroom Learning in FE
Learning Assistants at Northbrook College in Sussex had much to discuss on the topic of student support at their recent summer CUREE workshop. Exploring evidence on effective questioning and supporting independent learning, they found a lot of resonance with what they do already, as well as new approaches to trial for September. Participants engaged with techniques in co-coaching, especially effective questioning and active listening, and left the workshop ready to support each other move their own practice forward. As one participant put it: "I feel more confident in analyzing my own successes and what I need to develop, then making steps to improve."
---
TEEP
We are very pleased to be working with SSAT on the Gatsby originated, well established whole school training package called TEEP (teacher effectiveness enhancement programme). The project is funded by The Education Endowment Foundation (EEF) to make TEEP available to schools with large numbers of disadvantaged pupils, many of whom underachieve. Our role is to help to use evidence from participants and the wider evidence base to tailor TEEP specifically to the needs of vulnerable pupils. We will be drawing extensively on our extensive database of the last twelve years of teaching and learning research, our work with 140+ partnerships of school on the leadership of narrowing the gap and our work with the Sage Gateshead's Learning and Participation programme's impressive work on inclusion and introducing engaging and manageable forms of evidence collection to give participants new windows into pupil learning.
CUREE resources that are particularly popular amongst schools focused on closing gaps in pupil outcomes include research summaries and case studies about the classroom strategies that counter disadvantages experienced by pupils from deprived backgrounds, ways of challenging all pupils, as well as effective approaches that work for particular groups of learners, such as dyslexic pupils or those with emotional and behavioural difficulties.
---
Nuffield STEM Futures Partnership
We are really pleased to announce that as formally recognised partners to the Nuffield Foundation we are launching a pilot project with schools to support and embed the use of the Nuffield STEM Futures learning resources in the classroom. This innovative cross-curricular programme is designed to engage KS3 young people with a vision of a sustainable and equitable future.
The content, learning activities and knowledge foundation of the Nuffield Foundation STEM Futures materials are exciting for teachers, for young people and for CUREE. They have firm research roots and an inspiring focus on using STEM and other core skills to build a better future for our planet and communities. Engaging with the materials with appropriate support will develop and enhance teachers' pedagogical skills in a number of key areas whilst challenging all pupils and prompting them to take more responsibility for their learning and their future. The end result is a skills-based cross-curricular learning programme in which teachers and pupils work on authentic, purposeful sustained activities.
We will be exploring with our pilot schools ways of contextualising the planning and delivery of these materials, identifying the level of CPD required to maximise professional learning in different contexts and identifying creative ways of using the materials to support transition. We will report on how things develop over the coming months. If you are interested in finding out more please email sian.bravington@curee.co.uk.
---
SEND in the news
SEND has featured widely in the media during the past few months. The government's response to the Green Paper included details of plans to strengthen early identification, give parents greater control over spending on educational support and put in place measures to reduce 'over-identification' of pupils with SEND. The new teaching standards, which will be effective from September have also received attention. These require teachers to meet the needs of pupils with SEND and also to engage effectively with parents.
With this in mind many schools will be focusing on their SEND provision. To help kick-start the process why not take part in our survey? This will help you to reflect on your own school priorities and compare them with those of other schools. Click here to access the survey. You may also want to find out more about the Achievement for All programme. This offers a proven way to improve outcomes, engage with parents relationships and provide effective CPD for staff in addressing the needs of these vulnerable pupils. The strength of the programme was highlighted in the government's Green Paper response. It is still possible to secure a September start for your school. Click here to contact Rebecca Raybould and find out more.
---
Expert or Everyman – who leads the leaders?
The role of the Head in promoting good governance
Governors are, it seems, under attack with Michael Gove caricaturing them as "local worthies who see being a governor as a badge of status". His model of 'good governance' looks at lot likes a, rather idealised, company board. There are a clearly some problems of governance but it's not at all clear that these are signs of systematic failure. Many problems in governance come down to problems of availability or effective use of information or to breakdowns in relationships. The NCSL National Leaders of Governance programme was devised to provide some expert support to chairs and other governors helping them to tackle these and similar problems.
The elephant in the room is that governors (and NLGs) are volunteers and there are limits to how much professionalism you can demand for nothing (noting in passing that all those doing the demanding are very well paid indeed). The Head might or might not feel like a powerful participant – they are, after all accountable to governors. But in reality they determine how accessible information is to governors and tentativeness of confidence about strategy may be experienced as either fostering or inhibiting effective decision making and promoting or damaging professional relationships. It's a choice and a skill shared between the head and Chair/ vice chair. The 'amateur' governors can, indeed, lead the leaders but only with their help. Read the full article on the CUREE blog pages here.
---
In other news
Impact of CPD
We've enjoyed lots of conversations with school and College leaders during 6 recent conferences. So we know that evaluating the impact of CPD is on your minds. The big breakthrough for participants in our impact of CPD workshops and SKEIN evaluation service is a structure that helps them focus evidence collection proportionately and the approach to sampling. Both key to reducing bureaucracy and connecting staff and pupils' learning.
The Big CPD Debate
David Weston of the Teachers' Development Trust has been hosting a series of webinars discussing a number of interesting and contentious questions such as should we ban 1 day workshops? and Should schools be forced to schedule staff collaboration time? There is one more webinar to go (16th July) and you can sign up to participate here. You can catch up on the ones you've missed here. The webinars precede the launch of Pearson's major new research report on CPD which will be accessible from here shortly. The findings of the report underpin the design of Pearson's new and innovative CPD model. We should declare our interest – CUREE wrote the report.
Achieve Outstanding Learning and Teaching
We thoroughly enjoyed this Expansive Education Conference. It was great to meet with so many people committed to using action research as a vehicle for developing outstanding practice. Click here to view Philippa's PowerPoint presentation for the event.
FE Teaching and Learning under the microscope
The evidence is clear - the best way of improving teaching and learning is to try something new. Experimentation, it turns out, is one of the keys to improving practice.
Interested in trying it out? This LSIS funded project is FREE and can improve your Ofsted grades. Click here for more.
Effective Teaching Strategies Toolkit
You may have come across the Sutton Trust Teaching and Learning Toolkit which provides guidance for teachers and schools on the evidence about effective teaching strategies. The toolkit is being extended and the NTRP were asked to critically evaluate the proposed materials. Click here to access the current toolkit. We will let you know when the new resources become available.