CUREE Newsletter May 2011
Welcome to CUREE's Whitsun Newsletter
Philippa's Blog
It has been rather a strange Spring. The lateness of Easter, the density of public holidays, and the variety of school holidays has disturbed normal working patterns and made it very busy. We were pleased to work with the Pearson Centre for Policy and Learning on their recent contribution to the primary curriculum debate 'Subject to change: should primary schools structure learning around subjects or themes?' In addition to contributing some international research analysis, I also spoke at their launch event on 19th April drawing on a lot of evidence about effective curriculum development from around the world and from our own three year research project here at home. Through the wonders of modern technology, you can see and hear my 10 minute contribution on the Pearson TV website here. And on the subject of listening to me, you can do some more of it at the National Education Trust event at the National Gallery on 30th June, called 'Dare to be Different: Curriculum Innovation Through Art'. Get the programme here and sign up via the NET website from the link under Useful Links.
I am very excited about our new partnership with HTI and the imminent launch of the Skein service for schools. Skein, I hear you say, what's that? Actually it is the name of the V formation of geese flying collaboratively to preserve energy, increase efficiency and ensure they reach their goal. We think this is a good metaphor for the service described here. We think this will be important for schools considering drawing on support from all CPD providers, including teaching schools, as well as for those offering such support – whether they are Teaching schools or not. Schools offering to support others will need to model effective staff learning as well as effective 'teaching of teachers'.
By the way, writing this reminds me just how bizarre the notion that ANY school is not a Teaching School really is – and about the pitfalls in focusing on teaching at the expense of learning! You might like to look at the 'Sauce for the Goose' pamphlet that sets out pedagogy for CPD – that describes how the 'sauce', the extra efforts we have learned to mobilise to engage young people actively in their own learning, also needs to be applied to staff learning. In the spirit of reinforcing and contextualising new ideas and information (a key feature of effective curriculum implementation that you can explore in our series of curriculum workshops), there's a great recipe for an apple, ginger, chilli and coriander sauce in there too – which works for duck and chestnut loaf as well as for goose! So you can enliven your reflections about what's involved in securing an effective and efficient professional learning environment by stimulating your tastebuds at the same time.
Philippa Cordingley
Chief Executive
---
CUREE and HTI launch Skein – a new service for schools
Research shows that the most effective thing leaders do to improve student learning is leading, modelling and taking part in professional learning.
CUREE has joined with HTI to bring you a new service dedicated to providing you with the information and support you need to improve the quality of teaching and learning. Called Skein, the service:
creates a coherent CPD approach across your school, which models, and so reinforces, effective learning approaches for staff and for pupils;
develops your in-school CPD capacity and reduces your dependency on external providers;
gives you the information you need to make strategic decisions about professional learning goals and needs; and
links staff learning with pupil learning, enhancing your Ofsted evidence base.
CUREE and HTI are piloting and refining the service with a small group of pathfinder schools now. The full service will launch in September.
Click here
to find out how to register an interest or simply find out more. Alternatively ring (024) 7652 4036 or email
Lisa Bradbury
who will be pleased to help.
---
Evidence for learning – connecting CPD with student learning
In her latest article contributed to CPD Update, Philippa outlines how using evidence in staff continuing professional development (CPD) can make the process directly relevant to practice and help scaffold deep, sustainable learning for colleagues and pupils. Collecting and using evidence for professional learning rather than for making a judgment, an approach that Philippa calls 'Evidence for Professional Learning' (EfPL), enables teachers to move forward effectively in their development. At the heart of this approach is gathering data through observing our own and others' practice. Teachers who have opportunities to observe and analyse multiple teaching and learning exchanges, can identify strengths to build on, visualise what progress will look like and how to get there effectively and efficiently.
Click here
to read the rest of the article summary.
---
How was it for you? Student perceptions of the curriculum
Over 8000 pupils and students from more than 100 schools completed our survey to tell us about their curriculum experiences. More than 100 students from 21 schools took part in focus groups. We have now distilled their views on a range of aspects of the curriculum into eight page reports (separately for primary and secondary). If you are interested in finding out how difficult or challenging they found their lessons, how good their teachers were at helping them learn, or what they thought would make learning better for them get a copy of the report from us. Available free by emailing
Rebecca Raybould
, please state which report you want, primary or secondary (or both).
---
Steer your staff, impress your governors
"...it is brilliant! The deputy and I have looked at it and discussed its many strengths and uses – it has already saved us time and moved us faster forward than we would have been."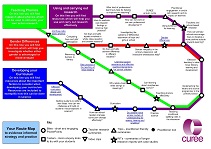 This is what Ruth Schofield, the Headteacher at Blackthorn Primary School, had to say about the customised evidence route map CUREE created for her.
Deceptively simple, the interactive map is built around your development issues and brings relevant and useable evidence instantly to your fingertips.
As well as supporting your drive for greater success, the map is great for:
communicating with governors about your development plans; and
showing Ofsted inspectors how rigorous your planning is.
Staff really appreciated that it saved them time in searching for valuable research resources. "We all agreed it is actually quite hard to stop following the links because the information is so interesting… already the feedback is excellent." The staff also liked the structure as it helped them to see the connections and overlaps between the development priorities.
Click
on the map picture above to see a bigger, working version.
Click here
for an example of a map for a secondary school and how you can commission one for your school. We are offering the first 10 at a discount of 25% - contact
Rebecca Raybould
to secure your discount.
---
Going, going..! Curriculum workshops
Our short series of intimate interactive workshops are filling but there are some remaining places if you hurry. The events will give you the insights you need to select strategies that will work together to make a real difference to achievement. They focus on:
developing appropriately challenging experiences; and
using CPD to embed and deepen subject knowledge.
Our practitioner friendly, research based tools and resources will sustain professional learning as you focus on moving practice 'to good and to great' back in school.
---
In other news...
Effective and co-operative CPD: Make the most of your school's expertise and deliver cost-efficient CPD to raise standards and pupil attainment
CUREE's Lisa Bradbury will be both chairing and contributing to this conference in London on 21st June. Attend the Effective and Co-operative CPD conference to:
implement innovative school-based training opportunities that harness existing staff expertise;
set flexible objectives to provide staff with bespoke performance management targets;
provide your staff with collaborative learning opportunities through peer mentoring;
plan a training system that cascades learning and resources; and
create a sustainable CPD programme to train staff throughout their career from ITT to SLT.
Speakers include:
Kate Campion, Operational Director, National College for Leadership of Schools and Children's Services – gain official insight into the national Teaching School expansion
Liz Francis, Director of Workforce Strategy, Standards and Qualifications, TDA – hear the latest update on the TDA's new executive agency due to be established in April 2012.
CUREE's Chief Executive recognised
Philippa has joined an illustrious group of educationalists in being awarded an honorary Fellowship by the College of Teachers at a ceremony in London on 17th May. The College is the oldest professional institute for teachers in England and holds a Royal Charter issued by Queen Victoria in 1849. Other holders of the College's Fellowship Honoris Causa include Mick Waters, Sir Michael Barber, HMCI Christine Gilbert CBE and Baroness Susan Greenfield.
Where to find Teachers TV resources?
TTV closed down in March but the resources are still available from other places. The TES is hosting them, as are two other organisations. Much though we love the TES, their repository seems to be incomplete. Some stuff is missing – completely absent or just the video without the supporting resources – and it's very difficult to search.
For now, we would recommend using Teachers Media which seems to have replicated the TTV archive entirely. Have a look at the resources we helped make in the '
Proven to Work
' series.